Traits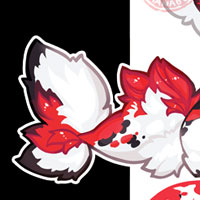 A furry tail with a fishy flare.
Toggle Minimize
Tail Structure Guide
Toggle Minimize
Trait Examples
Miniature Shoal
Standard Shoal
Infused Shoal
Infused Shoal
Details:
Standard shoals have a large tuft of fur at the base of the tail as well as a fin-shaped fan at the end of the tail.
There is always at least a partial section in the middle that is mostly sleek short fur and lacking excessive fluff.
The "fin" shaped fur placements are always vertical. Horizontal alignments are only present on hybrid versions.
1 result found.