Traits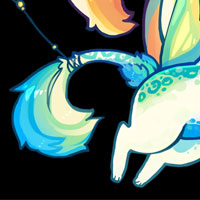 Somewhat like a unicorn tail. Groves are slender and flexible, with a tuft of fur at the end.
Toggle Minimize
Tail Structure Guide
Toggle Minimize
Trait Examples
Standard Grove
Standard Grove w/ Accessories
Standard w/ Spade Tip
Infused w/ Braids
Standard w/ Styled Tip
Details:
Generally, the main tail fluff should not extend up past the halfway point of the tail.
Grove tails sometimes have extra bits of fur that drape loosely underneath the base of the tail.
Extra fluff on the top of the base of the tail should be minimal if any.
Grove tail tips can be styled a bit, like a fluffy cotton ball or fluffy point, but there should still be a clear tail tuft at the end. Be sure to check and ask stylization questions in the sketch phase of any design approval!
1 result found.