Traits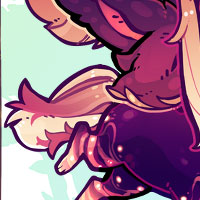 Glade tails are your basic pony tails, silky and ready for brushing.
Toggle Minimize
Tail Structure Guide
Toggle Minimize
Trait Examples
Miniature Glade
Miniature Glade
Styled Glade
Beaded Glade w/ Featherlight Hair
Details:
Nothing too tricky about glades. You are welcome to adjust the volume of the tail higher if you'd like an especially teased look or lower if you want a more sleek style.
Glade tail strands should be fairly uniform in strand length.
This tail type can be styled like long strands of hair with beads or braid inclusions. Just keep in mind braided glade tails should be shorter than the sizing guideline by a bit to account for the hair being longer when loose/not braided. Be sure to check and ask stylization questions in the sketch phase of any design approval!
1 result found.