Traits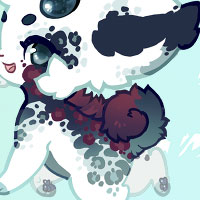 A good ol' curlicue tail.
Toggle Minimize
Tail Structure Guide
Toggle Minimize
Trait Examples
Miniature Cinnamon Roll
Standard Canopy
Fluffy Curl
Tighter Fluffy Curl
Details:
The tail can be tightly curled with densely packed fluff like a cinnamon roll, be a loose and floppy curl similar to a shiba dog, or anywhere in between.
You can uncurl the tail just a little bit from the base, but the majority of the tail must remain curled up.
Legacy:
Merged from elements of Timber/Fern (Legacy) tail styles.
1 result found.