Traits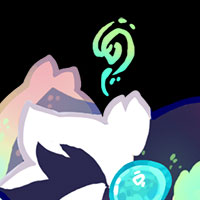 (previously "Simple Glyphic") :  Sigil crowns are symbols that usually represent an idea or emotion (exact interpretation can most often only made by the elnin itself- ie the elnin's owner is welcome to interpret the meaning of a sigil crown however they like). The imagery should always be very vague, the lines of a sigil crown should never look exactly like a drawing of some specific thing. The crown itself is made of two types of runes: 

Core runes. Each core rune is a single "stroke" or symbol, usually intersecting another rune, but they can also stand alone. Core runes can curve, but any distinct angles or direction shifts are limited to twice per rune. Any more than that will constitute the start of a new rune. You can have up to [4] core runes on the classic version of sigil crowns.
Inflection runes. Inflection runes are (optional) small dots or short dashes that can accompany a sigil. In elnin lore, these periphery runes act as accent or emphasis marks and are supposed to help with reading a rune's full meaning (but for art purposes they're mainly just for design flourish). You can have up to [5] inflection runes on the classic version of sigil crowns.
Correct Examples: [Correct Classic Sigil Crowns] - Check out the rune breakdowns in the description!
❌ Incorrect Examples: [Incorrect Sigil Crowns] 
Color Restrictions: A Sigil crown can be any single color (ELN256) -or- a gradient effect of up to two colors as long as one of the two colors matches the elnin's anima (ELN227).
Misc: Classic sigils should not give off any type of light. 
1 result found.