Mutations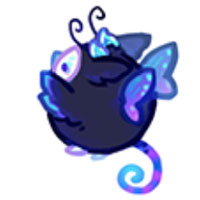 Region: N/A
Is Hereditary?: No
Fae variant pomu are the same as their classic standard pomu siblings but they have a few differences to allow them to fit in with their faenin companion! 
Toggle Minimize
Trait Examples
Kittom Pomu (Fae Variant)
w/ Oddly-colored Pomu
Adult Pomu (Fae Variant)
w/ Oddly-colored Pomu
Details:
What makes the fae variant pomu different from the standard pomu? Well, they have the following:

Antennae
Miniature Wings (Literally, hehe.)
Pixie Horns
Faenin Tail Style

Fae variant pomu have a faenin tail style instead of their usual stumpy, feathered tail. The pomu's tail can be any faenin tail style and does not have to match their faenin's tail style.

Luminous anima doesn't impact pomus and therefore would not impact puca tails on pomus.

If the faenin doesn't have a faenin tail style then the pomu tail will follow the default: a

 flexible whip base with any configuration of winglets.

The arm feathers may be colored, but that's it. The colors just need to match the faenin in some way.

The pomu of a kittom is much more round than the pomu of an adult!
1 result found.